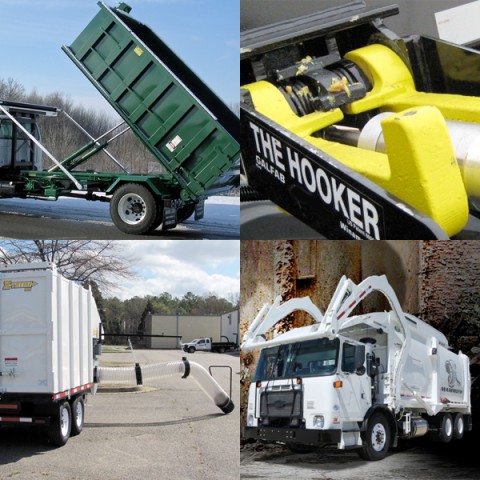 Maryland Industrial Trucks distinguishes the significance of city maintenance and refuse collection. That is why we are happy to offer refuse and debris collection systems that are opportune and fruitful such as Ampliroll Hooklift Systems, Galfab, New Way Refuse Equipment and Xtreme Vac Leaf Collectors.
Ampliroll Hooklift System
The complete line of Ampliroll® Hooklift products delivers a wide range of application uses with an unmatched reputation for excellence and endurance for over 45 years of proven performance with lifting capacities ranging from 6,000 – 60,000 lbs. They only need less than a minute to load bodies. Always motivated to be the most advanced in the industry, Amplirolls' telescopic form fit jib without plastic or steel shims enables the perfect load distribution for all your bodies.
All Ampliroll® Hooklift products are designed to be cost-efficient, durable with a life span of over 25 years, easy to operate and the best in class in payload. They have virtually an endless variety of attachments and offer replacement parts.
Galfab Waste Handling Equipment
Galfab roll-off hoist products include roll-off hoists, trailers, roll-off containers, self-contained compactors, and more. Trailers produced by Galfab can double your payload and increase efficiency all while reducing fuel costs due to their secure, heavy-duty designs. Some optional features for Galfab's trailers include air ride suspension, various wheel types, "The Hooker" Hold-On System, and much more. Galfab's roll-off hoists come in a wide range of models to adapt to your business' needs, including single axle cable hoists, multi-axle cable hoists, and hook hoists. All models are created to be durable and dependable and carry your heaviest loads with no difficulty. When it comes to roll-off containers, Galfab has you covered. Galfab offers open top containers, octagon compactor receiver containers, tapered compactor receiver containers, gasket tailgate containers, recycling containers, and custom-engineered containers. Each open top container is designed with simplicity, efficiency, and durability in mind.
New Way Refuse Equipment
New Way offers a full line of refuse equipment ranging in sizes from 6 to 43 yd. Equipment offered by New Way includes automated side loaders, front and rear loaders, satellite bodies, recycling bodies,  and roll-off systems. New Way's automated side loaders can be operated by a single driver to increase efficiency and productivity. New Way produces two models of the automated side loaders. New Way's front and rear loaders are made for high-quality compaction, durability, superiority and efficiency to outlast any competition. There are two models of the front loaders – the Mammoth and the Western Coast Series Mammoth. Both have the option of a 6,000 lb, 8,000 lb, or 10,000 lb lift capacity with the extraordinary strength of the single-piece arm construction. The rear loaders are available in five models. Each rear loader comes standard with a rear-vision camera and a one-year cylinder warranty.
Xtreme Vac Leaf Collectors
The number one choice for professional landscapers and municipalities, Xtreme Vac's broad line of debris collectors is colossal, effective and efficient for virtually any debris collecting application. Xtreme Vac offers different models for both belt-driven debris collectors (model LCT65, XV600, and XV6000)and self-contained debris collectors(XV8031 and SCL65TM). All models contain intake hoses, and impellers, of various sizes to meet your business' specific collecting needs. Xtreme Vac's self-contained model, the SCL65SM-3X, is designed with a 74hp four-cycle diesel engine that is truck mounted and provides optional in-cab controls. With the SCL65SM-3X, your business can effortlessly collect leaves professionally with a one-man operation.
Maryland Industrial Trucks Inc.
From leaf collectors and refuse equipment to hooklift systems and everything in between, Maryland Industrial Trucks has you covered. All manufacturers produce groundbreaking machinery to guarantee that refuse and debris collection is made proficient and stress-free. Contact Maryland Industrial Trucks today if you're interested in utilizizing one of our many refuse and debris solutions! Feel free to like and follow Maryland Industrial Trucks Inc. on Facebook for the latest and greatest updates on our products.