Poor conditions of untreated asphalt roads can lead to a drop in half the value after fifteen years. Protect your community's investment with proper care. Pavement preservation is one of the most cost-effective and efficient ways to preserve roads and can save municipalities and cities money.
Untreated road conditions hit a "crisis stage" after 20 years. Simple preventative measures are not enough to salvage the road without having expensive and long-term rehabilitation. By using pavement preservation equipment and maintenance to help prevent road deterioration, your local government entity can maximize the taxpayers' return on investment.

Maryland Industrial Trucks is a proud distributor of pavement preservation equipment. We proudly offer the best brands of the asphalt repair, maintenance and equipment business with Cimline Asphalt Equipment and HD Industries that are guaranteed almost to double the life of any road while significantly reducing the number of repair costs.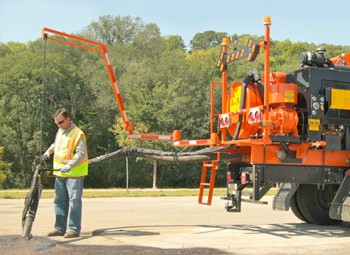 Cimline Asphalt Equipment
Quality, safety and customer service are Cimline's first values to focus on when manufacturing their products. Maryland Industrial Trucks is pleased to provide a variety of Cimline's tack kettles and Magma crack sealers. After all, Cimline has been one of the top contributors to the global pavement maintenance industry of corporate and contract owners for over 40 years!
Cimline's K Series tack kettle operates with a minimum requirement of maintenance while offering the latest in technology with an incredibly durable S-shaped single flue design manufactured to last twice the lifetime of other units with the same tank size. The K Series has a higher-performance production outcome and is more energy-efficient when heating as well.
Cover anywhere between 6,000 linear feet to over eight lane miles a day with Cimline's Magma crack sealers! All is possible depending on your choice of either the M1, M2, M4 or the pump free Magma crack sealer model offered by Cimline. Cimline's line of crack cleaners and asphalt optimizers are must have accessories for pavement maintenance. Designed with innovation and efficiency in mind so Cimline can continue leading the global pavement maintenance industry.
H.D. Industries Pothole Patcher
Take a load off of complex asphalt repairs with one of H.D. Industries various asphalt equipment including; six truck mounted dry radiant heat system models, four trailer-mounted unit models, dump body units, four truck-mounted heat transferable oil system models, and seven all-electric unit models.
H.D. Industries' Pro-Patch pothole patcher provides all the necessities needed for a simple one or two-man crew to efficiently repair asphalt without relying on oil distributors, air compressors or dump trucks. Maryland Industrial Trucks is proud to provide H.D. Industries' innovatively designed Pro-Patch pothole patcher that keeps all asphalt material and road oils maintained at under constant heated temperatures. H.D. Industries guarantees that all their machines are efficient and offer incredibly cost-effective solutions to every client, big or small.
Contact Us
Get the most out of your pavement preservation budget by contacting Maryland Industrial Trucks today for more information on affordable, high-quality options for equipment to ensure long-lasting, reliable roads. Maryland Industrial Trucks' wide range of high-quality products can cover all your road maintenance needs through the best of the best pavement preservation brands available in the industry.